Brizy is one of the new kids on the WordPress/page builder block, it came out in April 2018 and is a freemium WordPress page builder plugin that also offers design on the cloud.
We know there are a few solid choices to choose from at this moment, but Brizy is a good tool that can become a great contender for the throne of page builders.
Page-builder enthusiasts, this is for you:
WordPress page builder starting price $49/year or lifetime deal for $299.
They also have Brizy Cloud version, where you can build your landing pages and host them on their servers or host them by yourself installing a piece of code on your server.
In this post we will discuss what are the features that Brizy offers you and also help you decide whether going with Brizy pro or cloud is worth it or not.
Brizy page builder review: What is Brizy?
Brizy is the new kid in town, a fresh tool that joins popular names like Elementor, Beaver Builder, or Divi Builder. It basically has the same role, that of letting you create beautiful and modern pages without touching code, hiring a pro, or spending money on the perfect templates.
Everything about this plugin seems clear. You just need to select a layout and edit it by removing and dragging elements to the canvas; the page builder brings a decent collection of draggable and customizable elements such as buttons, text, lines, counters, tabs etc. In other words, the basics that you would normally find on a page.
One of the unique things about Brizy is how you actually customize those elements once they're on your page. Rather than using a sidebar or a popup like many other page builders, Brizy lets you control most stuff inline, which offers a different editing experience. See an example of styling a button:
Like other page builders, Brizy is compatible with all themes, so you can use it on any WordPress site.
Key features of the Brizy page builder
To start off our Brizy page builder review, we'll cover the most important features, which should kind of wrap up all the strengths and possibilities you'll have if you decide to use it on your website.
Clutter free: Once you start working with the tool, you notice its simplicity. You won't stumble upon unnecessary elements of any kind. The plugin just works and provides what it claims to provide. No more, no less.
Intuitive drag-and-drop interface: Everything is straight and smooth on this part, nothing to comment here.
Over 150 pre-made blocks: These include multipurpose templates and layouts that you can customize. If you won't find one to match your ideas, you can at least pick one that's close to your expectations and re-arrange it to your liking.
Global styling: You can set up global styles for things like colors and typography to apply by default and then just edit individual blocks as needed.
Mobile-friendly: The plugin offers a mobile view, so you can see exactly how the page you intend to build looks on a phone screen. You have the possibility to adjust the elements and optimize them for other devices.
Design elements: Aside from the ready-made blocks, there's a group of elements to help you stylize your pages. You can remove or add buttons, counters, icons, tabs, images, audio/video, columns/rows, forms, progress bars (and more) in just a few seconds.
Cloud auto-save: You shouldn't worry about losing the adjustments you've been working on for a long time because all your work will be stored in a cloud.
Flexible customization: When you're editing a pre-built page, you don't need to stick to its default structure. You can always re-order blocks, change backgrounds (image, video, parallax), redo/undo actions, adjust the paddings and margins, edit the text and the images etc.
How does Brizy work?
After you install the plugin, you can launch it when editing a post or page like any other page builder. Then, you'll have the option to choose from existing blocks or start from a blank block: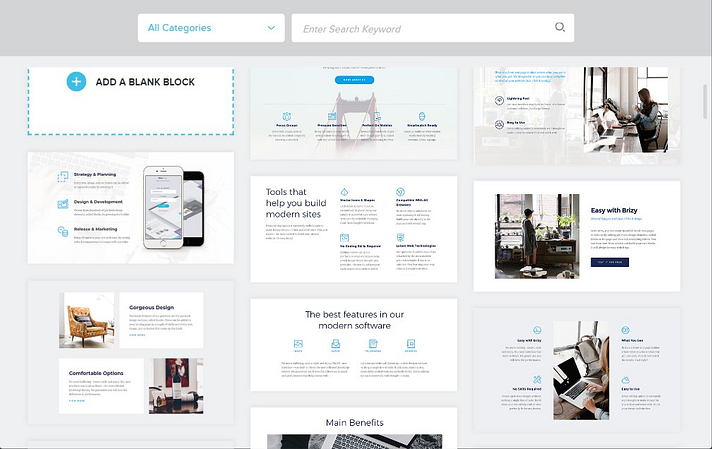 Select a pre-built block to start. It's easy to tweak the existing content using drag and drop. And you can also easily add your own elements. For example, to add that countdown timer, I just needed to drag it over from the left sidebar: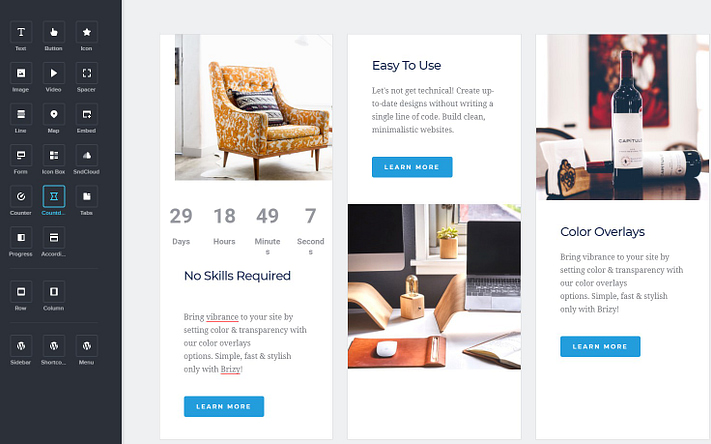 If you want to adjust the space on your page, Brizy includes draggable margins:
To adjust global styles, you can use the options on the left:
In the top-right corner, you can access options that let you:
Control a block – you can even make a block a slider
Set the block background
Save blocks for later
Change the width of a block

And in the bottom right corner, you have some other tools that allow you to undo/redo your actions, preview, and finally publish when everything is ready.
I played a little bit with the templates, added some new elements, changed some colors, and published one on my testing site. It looks like this: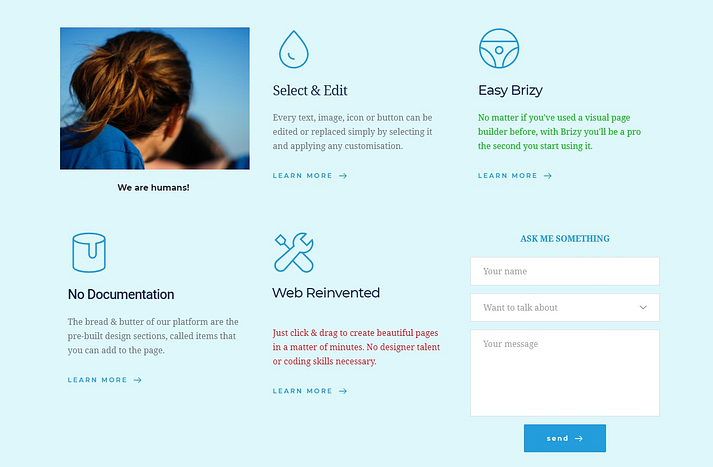 So that's how you edit a page or post with Brizy and what I wrote above kind of concludes what the plugin puts on the table for you. This is basically the full arsenal of elements, options, and settings that you get if you download this tool.
Brizy Page Builder Review: Pricing Plans
As I said before Brizy is a freemium page builder. The Brizy Pro comes with three plans as of now.
Their personal plan costs you $49/year. You have the ability to use a Brizy page builder on 3 different sites. The Freelancer plan costs you $99/year and you can use it on 100 sites – which is perfect for client use.
The lifetime plan starts at $149/once for one website and $329 for 500 websites, it comes with Whitelabel feature for client use .
When compared to Elementor, the price is quite cheaper. We believe too early to compare Brizy with Elementor.
You may consider investing in Brizy and get a $299-lifetime plan for 100 sites, it would be a worthwhile value investment considering the pace at which Brizy is growing.
Who should use Brizy page builder?
Given the plugin's current state, I would say that the appropriate users would be the ones who don't need the tool for very high business ambitions (say corporate goals). The plugin is good for those who are in the initial stages of building a WordPress blog, testing, and launching a new business.
It's the perfect choice for people who still want to experiment with their professional identity and still explore possibilities. So local and small businesses would be ideal here.
Of course, using it for personal projects is definitely great and will help you big time.
Where can you find Brizy?
Since it's a free plugin, you can either download it from its official website or get it from WordPress.org. If you want to set it all up without leaving your dashboard, you can simply search for the plugin via Plugins -> Add New in your WordPress admin page.
Brizy Cloud
Brizy Pro also offers Brizy Cloud. This is similar to the Leadpages and Instapage. You can login to the page builder portal and start building your pages.
Brizy Cloud is a platform that is hosted by the Brizy Builder. If you want to create landing pages, this is what you need.
The Brizy Cloud platform helps you to land pages as easily as possible. This feature helps businesses to connect to the clients directly. Brizy Cloud provides a better set of features that helps you to launch landing pages almost instantly.
If you are looking for a platform that can help you reach suitable clients faster and better, then choose the Brizy Cloud platform. Although this is an amazing feature to better the prospects in E-commerce et al, the Brizy Cloud platform is still under development.
The free Brizy cloud does not provide with all the necessary tools for advanced page building. If you want a more professional setup, go for the Brizy Cloud offered by the Pro version.
Brizy Page Builder Review: Conclusion
Brizy is a relative young page builder and it's already showing great potential. Their strength lies in making the process of designing smooth and simple enough even for beginners. Brizy will make you feel like an expert in seconds.
What is different here is that the developers of the Brizy WordPress page builder have been developing WordPress products for 10 years. That's what makes this different for me.
Right now they have a pretty aggressive roadmap with some amazing features planned. So time will tell if they can deliver. I think they can and they will.
All in all, Brizy is a great option for those looking for a page builder that truly makes creating simple webpages a breeze.